If you are experiencing an graphics issue (i.e., unexpected rainbow color on screen) on playing old games on operating systems newer than those games (such as StarCraft), you can fix this issue using DirectDraw Compatibility Tool.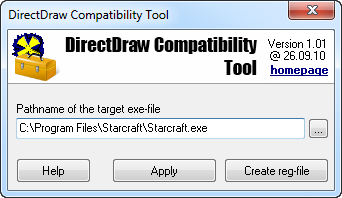 The solution of the issue is simple. Please download and run "DirectDraw_Compatibility_Tool.exe" linked below, select the executable file of the game, and click "Apply"
The principle of the solution stated above is adding registry value to resolve compatibiliity problem of DirectDraw. For Starcraft, you can temporarily resolve the color issue by exiting explorer.exe process during the gameplay.
Because the root cause of this problem is from the compatibility issue of ddraw.dll with Windows 7, you may try to replace ddraw.dll with another that the compability issue is resolved. However, you may try this approach with your own risk because you need to replace the system dll file.
Note: I cannot guarantee the last solution of replacing ddraw.dll because I naver tried it. The ddraw.dll is located on C:\Windows\System32.
Download DirectDraw Compatibility Tool DirectDraw_Compatibility_Tool_1.01.rar
Download modified ddraw.dll (mod) ddhack10.rar